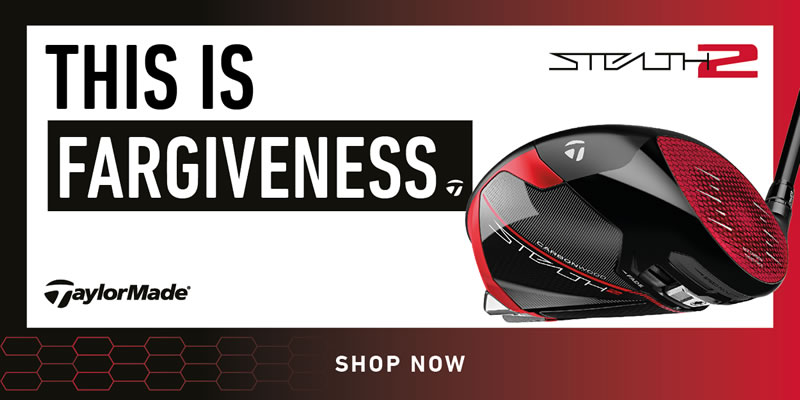 TaylorMade's Stealth range has become one of the best drivers on the market for golfers who struggle to make contact off the tee, and now they've taken their performance up a notch with the new Stealth 2 driver.
It's packed with technologies designed to optimize speed and forgiveness. By double the volume of carbon fiber, engineers can optimize Moment of Inertia and boost ball speed on off-centre strikes.
Inverted Cone Technology
Many players consider their driver the most essential club they own, and they strive to find one that helps them hit the ball as far as possible. Fortunately, there are plenty of drivers on the market that can assist you in achieving that goal.
The best drivers are constructed with premium materials to help launch the ball higher and farther. Furthermore, they're engineered for greater forgiveness - helping you avoid costly mishits.
TaylorMade is a leader in driver technology. Their models have been used by Tour pros like Tiger Woods, Collin Morikawa and Scottie Scheffler - testament to their commitment to innovation. It's no wonder why TaylorMade continues to set the bar so high for other brands in this space.
As 2022 approached, TaylorMade unveiled their Stealth series of drivers - the first with an all-carbon driver face. They called this new technology Inverted Cone Technology and it was designed to enhance performance throughout the face.
This increased the COR area, increasing performance and creating a larger sweet spot that led to increased ball speed. The Stealth 2 (low spin, workable) is the first driver in the Stealth family with ICT technology which maintains ball speed on off-center strikes while increasing forgiveness.
The Stealth 2 HD (high launch, high spin) driver offers more control over your shot shape and trajectory with its sliding weight track. Plus, it boasts an Inertia Generator combined with a 30-gram rear weight to deliver the highest MOI of any driver in the Stealth family - an impressive 81%!
These new drivers are designed for a wide range of golfers, from beginners to mid-handicappers. They feature several adjustable settings that let you tailor your shot according to individual needs.
The TaylorMade Kalea Premier driver is another model designed to help increase your ball speed off the tee. This driver features a carbon sole and aluminum back ring which adds 5% more MOI, as well as a flexible Thru-Slot Speed Pocket designed to retain speed for shots impacting low on the face.
Latest V Steel & Carbon Technology
TaylorMade Golf has been at the forefront of driver technology for four decades, consistently producing equipment that sets standards in performance and durability. In 2023, they took another big step towards this direction with the Stealth 2 family of drivers - offering even better value to golfers everywhere.
The Stealth family offers three models and one fairway wood that have all been engineered to deliver superior performance in various areas. The standard model Stealth 2 boasts a 3D Carbon Crown and V-Steel Sole design for longer, more accurate shots from any lie.
This model boasts a through-slot speed pocket to maximize ball speeds at impact. Furthermore, its lower and deeper center of gravity produces low spin and an upward launch trajectory.
Furthermore, the Stealth 2 is constructed with ATI 425 Aerospace Titanium from a Pittsburgh foundry. This titanium alloy is stronger and more elastic than traditional club face materials, helping to boost ball speed.
Therefore, this material is ideal for a face that can deliver more ball speed while still offering forgiveness on mishits. With a low CG and low spin, it creates the right flight bias for various swing styles - leading to longer distance from off-center hits.
In addition, the Stealth 2 features a tungsten movable weight that shifts the center of gravity low and back for improved launch performance, while its lighter head weighs less than other TaylorMade drivers for superior feel. You can adjust this driver into either a fade, neutral or draw position for maximum adjustability.
Finally, this driver boasts an eye-catching colorway that sets it apart. Nelly Korda - a longtime TaylorMade player - tested the Stealth 2 and was thoroughly impressed by its looks.
The Stealth line features three models, the standard, high MOI and draw-biased high MOI model. Each boasts an attractive look and feel sure to appeal to golfers of all skill levels.
Drivers, Fairway Woods and Hybrids
TaylorMade coined the term 'Rescue' over two decades ago when they first introduced hybrid clubs with high launch and forgiveness. This'rescue' design has proven to be an effective aid in helping golfers make difficult shots that might otherwise go out of bounds.
In 2023, engineers refined the recipe to make The Rescue(tm) even more potent. Variable face thickness and a flexible 'Speed Pocket' channel help optimize ball speed across the face, while a low and deep center of gravity encourages easy launch and improved on-course success for players of all skill levels.
For those who struggle to locate the center of the face and generate enough club head speed for accurate, repeatable drives, The Rescue(tm) can be especially beneficial. Its higher lofted heads combined with a deep CG encourage easy launch and strong ball flight that can cover longer par 3s and long iron distances.
As such, The Rescue(tm) is highly forgiving on mis-hits and helps to improve shot shape on weak strikes and straight shots alike. The adjustable 'Twist Face(r)' helps straighten heel-and-toe mishits while the 'Speed Pocket(tm)' increases sweet spot size and ball speeds when striking low on the face.
A new, lighter carbon crown and sole, combined with a 22 gram steel back weight, enable easier launching and better ball flight. A flexible 'Speed Pocket' channel behind the face extends the sweet spot for increased ball speed and forgiveness on low-face strikes.
The TaylorMade Stealth 2 Kalea Women's Driver is part of their new 'Kalea' line-up, designed to offer the ideal clubs for various golfers. After consulting focus groups in four countries and an advisory panel of female PGA professionals, TaylorMade has carefully crafted these clubs with you in mind.
The 'Kalea' lineup is the most comprehensive in company history, providing golfers with four models to suit a variety of playing styles and abilities. Ranking these drivers is determined using launch monitor data along with performance metrics such as carry, ball speed and shot area that are based on objective data - guaranteeing that rankings remain objective and can be used to compare similar clubs within a given category.
The Latest Golf Drivers Provide Maximum Forgiveness
Forgiveness is the driver's ability to help a ball go straighter or farther. It's not the only factor, but it should be taken into account when comparing drivers.
The higher a club head's MOI (Moment of Inertia), the more forgiving it will be on off-center hits - especially larger models.
High-MOI drivers offer the advantage of a straighter shot and are usually more budget friendly than other options. Plus, they tend to have a larger sweet spot which allows you to hit the ball farther.
High MOI clubs also boast perimeter weighting, which helps you hit the ball straighter due to reduced moment of inertia (how much the face twists upon impact).
This makes it simpler to hit the ball straighter and longer, which is great news for high handicap golfers who require assistance getting up in the air.
As you can see, the TaylorMade Stealth 2 offers plenty of forgiveness when it comes to launch and spin performance. For instance, its 60X Carbon Twist Face is enclosed by a polyurethane nanotexture cover which helps optimize launch and spin for longer distances.
These features combine to make for an incredibly forgiving club head, ideal for any player looking to enhance their golf game.
The TaylorMade STEALTH 15g sliding weight track driver offers golfers the ultimate shot shaping control by shifting mass on the sole. This model marks a big improvement from their Stealth HD driver, offering more forgiveness and control than ever before.
TaylorMade's most forgiving driver is worth considering if you're searching for an excellent option. Plus, it comes with three stock shaft options so that you can pick the ideal one to suit your swing perfectly.