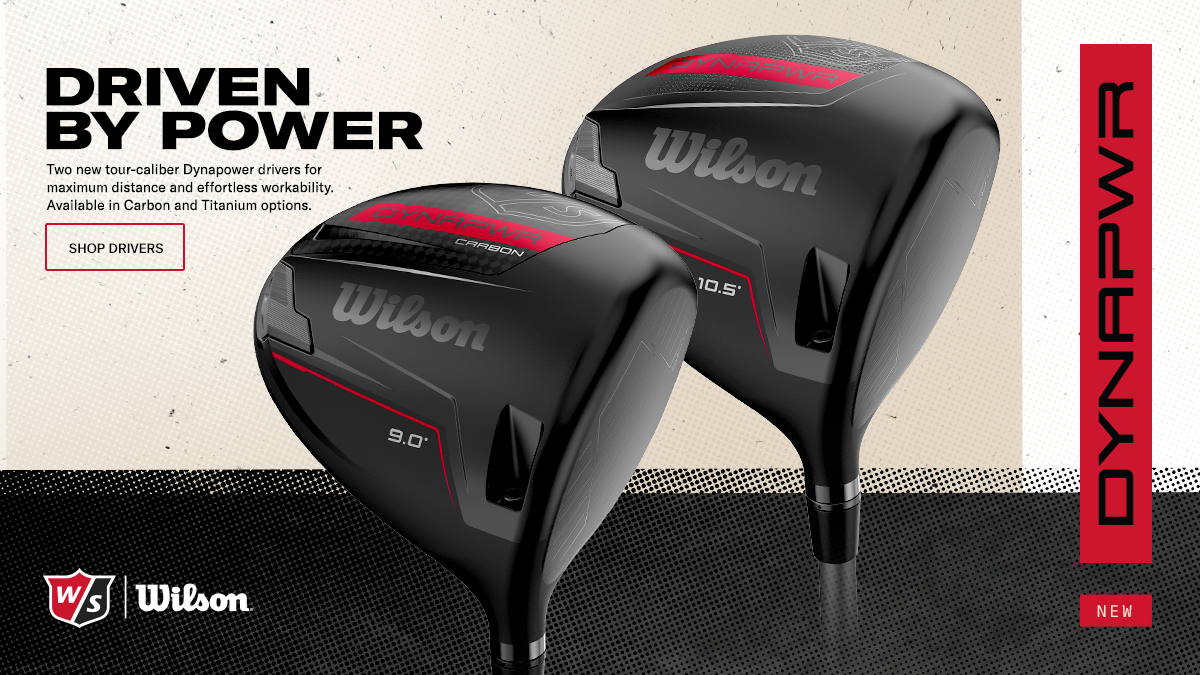 Wilson golf products have become a go-to brand among golfers around the world, and their Dynapower line of drivers, fairway woods, hybrids and irons has enabled many professional players to elevate their game to new heights.
The 2023 Wilson Dynapower Drivers boast a revolutionary hosel design, making it easier to customize your launch and spin for every swing. This helps maximize distance for both mid handicappers and faster swinging players alike.
DYNAPWR AI Technology. Is this Wilson's Best Driver in Years?
In 2023, Wilson Golf will introduce new drivers, fairways and hybrids to their Dynapower family of clubs. These revolutionary clubs utilize DYNAPWR technology for maximum power and control - first introduced in irons decades ago and now extending across the entire club line.
Dynapower's DYNAPWR lineup boasts Tour-inspired shaping and flatter profiles on every driver, fairway wood and hybrid model. Plus it includes PKR2 dynamic face thickness technology - an AI-driven variable thickness design that enhances ball speed and forgiveness throughout the face.
The new DYNAPWR-AI technology offers six different spin and bias settings, each altering spin by approximately 125 rpm and 3.5 yards on either side of center. Ultimately, this will provide more distance for players with the right shot shape.
Dynapower offers two driver head models, one made of carbon and the other from titanium. Both are adjustable with a 6-way hosel that allows golfers to customize their club based on preferred swing, flex and shaft choice.
Carbon Vs Titanium Head Options - Which one is best for you?
Both carbon and titanium versions feature a CG that has been lowered and brought forward, helping reduce spin and enhance launch. A carbon crown and sole carbon panel have also been added to the carbon model to further enhance ball flight.
OEM driver designs often incorporate a low center of gravity (CG) to save weight and provide more forgiveness and stability. Unfortunately, this type of low CG can only be achieved using high-strength carbon fiber and may not always be feasible due to additional frame structures needed for support.
Wilson Dynapower drivers feature a large, high-strength carbon fiber crown to maximize their low center of gravity (CG). This reduces the CG and increases MOI. Furthermore, this material adds stiffness to the shaft, ensuring that you launch at an ideal angle for maximum distance.
On March 9th, 2023 the Wilson Dynapower Driver became available with a selection of stock shaft options. Choose between Fujkura Ventus Blue (Carbon head in 9@, 10.5@ and 12@ loft options) or Project X HZRDUS Smoke Red RDX (Titanium head in 9@, 10.5@ and 13@ loft options).
PKR2 Face Design Provides Maximum Forgiveness and Speed
Both head models feature PKR2 dynamic face thickness technology, which involves thousands of combinations to find the ideal face thickness combination. Plus, its higher MOI design helps increase distance with each swing.
Players can hit the ball farther and with less effort thanks to this model's forgiving nature and higher stability compared to other models in its price category.
Its performance was also remarkable, with testers noting they knew exactly what hit they'd get from the club when they touched it. This provides players with peace of mind knowing what hit they're hitting and trust in its ability to make an impact with minimal effort.
The Wilson Dynapower driver is an ideal choice for both novices and experts looking to improve their game. At such a great value, its AI-based technology will enhance your swing, providing better distance than most of its rivals at this price point.