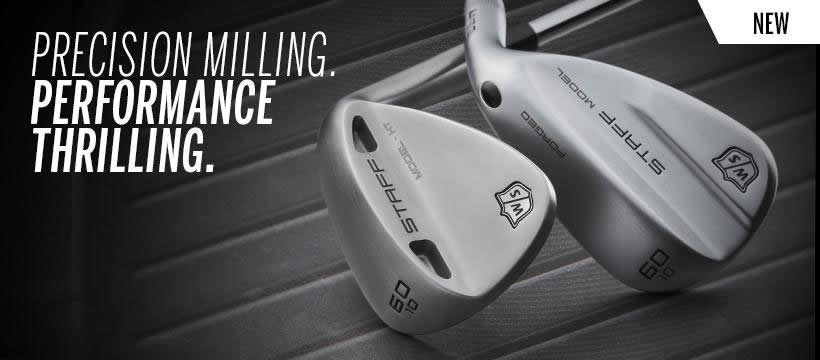 For quick and effortless ball retrieval, a great wedge such as Wilson Golf Wedges 2023 can be essential.
These wedges feature aggressive grooves for added forgiveness on the greens and an ultra-precise milled face to maximize spin for improved results around the greens.
High-Toe / Wide Sole Construction
Wilson Golf Wedges 2023 are built with high-toe / wide sole construction to offer maximum shot versatility and creativity for short game play. You have total control over which face makes contact with the ball and how much spin is produced on shots towards the green.
Additionally, they're constructed of soft 8620 carbon steel and feature a Milled Grind sole to deliver consistent feel around the greens - giving golfers all of the control and feedback necessary for managing distance and spin on every shot. This gives golfers unparalleled precision for distance and spin control on every shot they hit!
Bounce: A wedge's bounce is crucial because it determines how long the club travels over the ground, helping you control shots in both firm and soft turf conditions. Lower bounce wedges tend to perform best for hard fairways with tight lies while higher bounce options work well with soft areas or bunkers.
Sole Grind: Many wedge manufacturers provide different sole grind options to accommodate different attack angles and turf conditions. Players seeking minimal bounce should opt for low-bounce soles; neutral players need a midsole that matches their swing speed and plane. Wilson offers sole grind offerings as well as complete sole construction to meet both shallow and steep attacks.
An accommodating sand wedge is essential to creating effective shots from rough and bunker conditions. A wide sole design makes it harder for the club to dig into the sand, eliminating thin and fat shots. Plus, its additional loft allows players to clear lips quickly on greens.
Precision Milled Face
Wilson Golf Wedges 2023 feature precision milled faces that create higher density designs for improved friction and spin production, along with machine engraved scorelines to facilitate greater contact at impact for increased amounts of spin on every shot.
Wilson has designed these wedges in collaboration with their world-class tour players to offer soft feel and incredible feel around the greens. Each wedge also includes a muscle pad on its high-toe portion to help lower flight and gain extra control, leading to more accurate shots.
Wedges are an integral component of the short game and should be considered by golfers of all levels for increasing distance, improving control, and lowering scores. A quality club can help you hit every shot perfectly and give you confidence on the greens.
Many brands have developed grooves to move water and dirt away from the ball at impact, which will enable more spin on your shot. Some even feature full face grooves to improve strike rates and lessen chances of mishits.
A good wedge will allow you to hit the perfect shot every time and is available with various loft and grind options, giving you maximum flexibility in choosing one that best matches your playing style. These wedges also come in various finishes like satin chrome black or raw which may eventually rust.
Some models come equipped with multiple sole grinds that allow users to either open or close the face depending on their needs, giving you greater versatility for playing shots in various areas such as fairway, rough, or bunker environments.
Wilson Golf, with more Major wins from its wedges (82) than any other brand, is expanding their Staff Model wedge range by unveiling the Tour Grind sole model. Specifically tailored for players seeking greater precision around the greens, this addition was developed in cooperation with PGA Tour Staff members.
Inspired by custom grinds created for Tour players like Gary Woodland and Padraig Harrington, this wedge features soft-forged 8620 carbon steel construction for maximum control when hitting the ball. In addition, its Tour Grind sole boasts machine-engraved score lines in its face to produce more spin and control with every shot.
Wilson's Tour Grind sole is less showy than its more luxurious competitors with similar-sized grooves; but nonetheless worthy of your consideration. Available only through Wilson in 56, 58 and 60 degree loft options.
This wedge is a solid performer that will help maximize your game. Not only does it feature an evenly spaced groove structure, but the Tour Grind also comes equipped with an accurate high-toe option to improve open face shots accuracy.
The Tour Grind offers slightly more spin than its predecessor; though not as much as Cleveland CBX wedges, its bounce is still notable.
As with other models from the Staff Model wedge line, these wedges are designed for firm conditions and tight lies. Available in 56-, 58- and 60-degree models at an RRP of PS109 each.
The Tour Grind wedge is an impressive addition to the Staff Model lineup and should certainly be given serious consideration by better players who desire a workhorse for their bag. Available with 56-degree lob wedge, 58- and 60-degree sand wedge loft options.
Soft Forged Carbon Steel
Wilson Golf Wedges 2023 are designed to help golfers of all skill levels make the most of every shot they hit on the course, and are an essential addition to every serious golfer's bag. Crafted from soft 8620 carbon steel for optimal feel around greens and off-center hits.
Wilson Golf Wedges 2023 are distinguished by their high-toe design, which allows them to feature wider soles than most wedges on the market, giving you greater control over adjusting loft. This feature will make playing higher shots easier - something not possible with most wedges - making a major impactful difference to your performance on course.
Increased spin production from off-center shots will also make distance control much simpler, particularly on sloped or uneven greens.
Wilson Golf Wedges 2023 feature an innovative Tour Grind Sole to provide extra forgiving off-center shots and greater control of flight, especially over longer distances where these wedges excel. This feature is especially important given their capacity for longer shots.
Wilson Golf Wedge 2023 features both a Tour Grind Sole and Precision-Milled face for increased spin and control, including machine engraved score lines on its face for improved spin control. Furthermore, this design increases density of clubface while increasing friction on off-center strikes for greater shot control.
Its high-density groove pattern provides more surface area to hold onto the ball for increased spin production on off-center strikes and control when playing sand shots.
Wilson Golf Wedges 2023 are available with standard 48, 56 and 60 degree loft options and come equipped with True Temper Dynamic Gold 120 shafts to deliver optimal performance on the golf course. Furthermore, Golf Pride Tour Velvet grips ensure maximum comfort when in play.