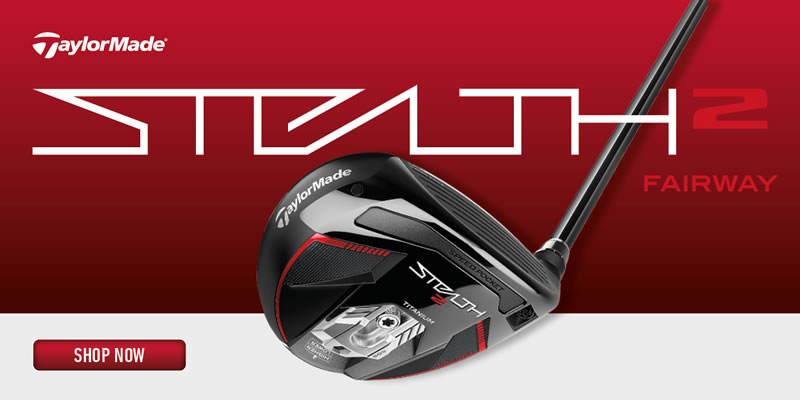 How to Find a Fairway Wood That Suits You
Picking out your fairway wood is an essential part of the process of completing your set of golf clubs.
Fairway woods can be used to create options and trajectories to different game scenarios such as escaping the biggest bunker to hitting in the middle.
So, it's important having a fairway board in your arsenal to stay one step ahead of your game.
Aslan Golf supply a range of premium fairway woodens from top brands such as Taylormade, Callaway and Cobra.
If you're in search of the cheapest, but stunning Ben Sayers fairway wooden or an expensive Wilson club, we'll assist you in choosing the right fairway wood that suits your needs.
Golf Clubs to Suit ALL Budgets
It's very easy to spend too much money on a brand new club, particularly if you have little knowledge or experience of what to look for.
At Aslan Golf, we have fairway woods that are available in a range of prices, starting at £99 to £399.
Even if you've many years of experience in golf, make sure you find the right club that best suits your needs and preferences; the fact that it costs more doesn't suggest it's the most suitable choice.
It's no secret that the most recent developments and the most up-to modern fairway woods will always offer the most exciting playing possibilities but, for great price the older golf range is a good choice to find top quality golf clubs at a reasonable cost.
How to Select Your Fairway Wood?
Loft is the angle at which you are able to see the vertical of the clubface that determines the direction of your shot.
There are numerous lofts that you can choose from that can either make an impact on your performance.
Fairway woods typically begin with #3 (15 degree loft) and increase until #5 (18 degrees loft) and then the number 7, (21 levels loft) and so on.
The majority of golfers carry a fairway of #3 or a fairway wood of #5 and a #4 hybrid which can be a great combination, especially when you're faced with a bad lying.
Loft sleeves on clubs that use technology let the player alter the loft by 2 degrees in either direction.
Club Design and Feel at Address
Fairway woods are of the same construction as Drivers that both use multi-material composites. However, fairway woods typically feature a steel face that helps lower their cost. golf club and ensures a consistent strike distance.
If you're seeking more powerful shots, a lower face clubhead design is suitable as it helps to launch the shot from the beginning.
If you're looking at improving their left right-hand shape ball flight must consider investing in an fairway wood clubhead with movable weight technology or face draw adjustable options that can really enhance their game.
Shaft and Grip Improve Feel and Strike
Fairway wood shafts of all kinds are made of graphite, and generally have a weight increase: there's an additional 10 grams of weight difference between the driver shaft and the fairway wood, and a further 10 grams difference between hybrid and fairway wood, consequently, if you're using the 60-gram driver shaft, the fairway wood shaft needs to be 70 grams, for instance.
It is important to match your shafts as well as grips across the set of clubs you own to ensure you're playing with the same consistency. playing.
To be a good guideline If you own an extremely small-sized glove, you should opt for the grip that is smaller, those who wears a medium-sized glove ought to explore regular grips , and anyone who wears a larger size glove could be able to benefit from an extra couple of wraps of a regular grip.
Fairway or Hybrid?
The most common comparison is Fairway Woods Vs Hybrids.
Fairway woods have a larger shaft length that increases the speed, thereby sending your golf ball farther.
If you are using a fairway wood You should focus on your maximum distance instead of shooting for a more carefully controlled shot.
This is an excellent advantage in situations where you play against the wind on a green that is smooth.
Fairway woods also are known to feature larger clubheads which will propel the golf ball higher in flight because of the center of gravity being further back from the golf ball.
This can be a good thing in terms of height and distance, but it reduces flexibility and reduces the capacity to handle difficult situations.
Hybrids are generally seen as the more efficient choice for areas that are more rough and could be used to chip the ball using the same approach as putter.
Selecting the Right Club
Make use of a fairway wood when you're playing in the wind, or if you've got a decent lay and no hazards on the green that you're playing.
With a solid posture and a broad swing, you can hit the ball far and far with fairway wood.
There are some minor difference between them the hybrid clubs are typically preferred by those who have smaller swings and are more likely to play with irons.
A hybrid is the best choice when playing with less wind, for instance, in the case of rough or bunker or if you wish to get over a hurdle or want a more directional velocity and a smooth landing.