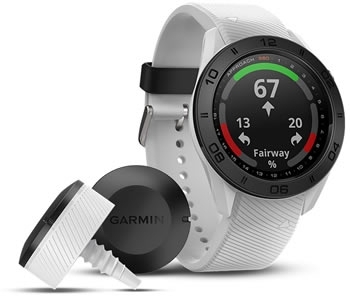 Special Price
£249.00
Regular Price
£280.00
A clever tool to help you improve your game
Is your 6-iron really your 135 metre (150 yard) club? How far do you consistently hit your drives, really? Is it a pitching wedge shot? Or more like a 9-iron? It's easy to know for sure with Approach CT10 golf club trackers that automatically track every shot on any club — even your putts. Easy to install, easy to use
The lightweight and secure sensors easily attach to the end of a club's grip. You won't even know the sensors are there while you play. But after a couple of rounds, you'll be glad they are. An ingenious automatic on/off feature helps provide battery life of up to 4 years. When it's time to replace batteries, you can easily do it yourself. Pair with your Garmin golf watch
Pair with compatible Garmin golf watches for automatic game tracking so you can focus on your game — knowing the sensor is tracking every stat. Those stats for each club with a sensor installed show up on your Garmin golf watch after pulling the club from the bag. See how far you typically hit that club, and view stats for accuracy to the fairway or green.
Approach CT10 club trackers are available in a full set to track all 14 clubs in your bag. This set lets you know how far you consistently hit each club and also which club you hit for every shot during each round from tee to green, including your putts and chip shots. If you only want to go with the three-sensor starter pack, add sensors to your wedges and putter to track chip shots next to the green and your putts, and rely on your compatible watch's AutoShot feature to track your other shots.
Track more stats with the Garmin Golf™ app
Add the Garmin Golf app to your compatible smartphone to gather key stats and data you can use to help you work to improve your game. Review your stats in the app for accuracy to the fairway or green and for drives, approach shots, chip shots and putting to help you know what parts of your game need more focus. You can also track and analyse strokes gained and other stats used by the PGA. Use strokes gained data and stats to show how many strokes you have gained or lost relative to a baseline comparison to other players in your group.
Change as your game changes
Suddenly, you're hitting some clubs further. And maybe other clubs seem to be falling short. Your game changes from season to season and with the years. With Approach CT10 sensors on your clubs, you can identify those changing trends and adapt your game to help avoid hitting too long or leaving shots short.
Features
Physical & performance
Physical dimensions (screw not included): 27 x 13 mm
Weight (1 sensor): 9 g
Battery: User-replaceable CR2032 batteries included
Battery life: up to 4 years
Water rating: IPX7

Additional
Pairs with compatible Garmin watch: yes (required)
Compatible with Garmin Golf™ app: yes
More Information

| | |
| --- | --- |
| Manufacturer | Garmin Golf |
| Next Day Delivery | No |