The Mizuno JPX 800 Pro Irons provide maximum performance, style and technology from Mizuno
As low as
£525.00
Regular Price
£625.00
Availability:
Out of stock
Mizuno JPX 800 Pro Irons
Mizuno's JPX technology platform provides a different option for serious golfers - a high feel Grain Flow Forged iron, packed with forgiveness and distance properties.
The Mizuno JPX 800 Pro Irons are the largest of Mizuno's Grain Flow Forged irons, the JPX has a longer profile than its MP counterparts, though a modest offset and top line preserve the traditional Mizuno look at address
The Mizuno JPX 800 Irons give distance gains using a unique combination of CNC milling and "under cut forging" that thin the face for improved energy transfer - resulting in the highest COR ever developed in a Mizuno Grain Flow Forged iron. The JPX800 Pro's 'under-cut' also allows an unlikely level of stability and forgiveness for an iron of such modest proportions.
While workability is reigned in through the use of the 'under-cut', the JPX800 Pro's Grain Flow Forged feel is enhanced through the application of Mizuno's Harmonic Impact Technology project - re-enforcing strategic areas for a pure sound at impact.
Mizuno's triple cut sole design is applied to effectively reduce the impact of the wider sole – for effective use from even the tightest cut fairways.
The JPX800 Pro is Grain Flow Forged at Mizuno's exclusive Hiroshima facility for exceptional feel and distance control.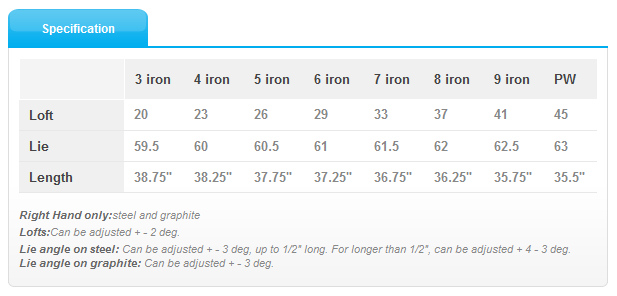 Authorised Mizuno Internet Retailer
You can only get deals like this from Aslan Golf your leading supplier of Golf Equipment!

More Information

| | |
| --- | --- |
| Manufacturer | Mizuno Golf |
| Next Day Delivery | No |
| Preorder | No |