The Mizuno MP-53 Irons provide maximum performance, style and technology from Mizuno
As low as
£569.01
Regular Price
£699.00
Availability:
Out of stock
Mizuno MP-53 Irons
Mizuno's own optical illusion, the compact MP-53 hides away a staggering level of forgiveness.
Ticking all the boxes required to be an MP model, the Grain Flow Forged Mizuno MP-53 Irons have the head size, playing profile, and top line to please the most demanding shot-makers. Though the Diamond Muscle design and "V" shaped Milled Pocket Cavity ensure a surprising level of stability from off centre hits.
The Mizuno MP-53 Irons distinctive Diamond Muscle ensures that greater forgiveness is not achieved at the cost of workability or feel. Created using Mizuno's Harmonic Impact Technology and extensively tested on tour, Diamond Muscle was identified as the prime solution to fine tune the MP-53's sound at impact.
In line with its quest to package big iron forgiveness into a more appealing head-size, the MP-53 also boasts a 360° grind to lessen the effective width of sole and top edge. The shorter irons taper into a design similar to the smaller MP-63, with precision and control taking priority.
The MP-53 is Grain Flow Forged at Mizuno's exclusive Hiroshima facility for exceptional feel and distance control.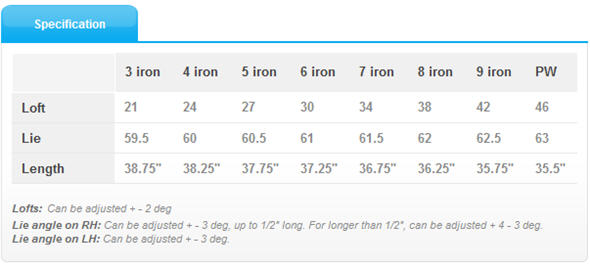 Authorised Mizuno Internet Retailer
You can only get deals like this from Aslan Golf your leading supplier of Golf Equipment!

More Information

| | |
| --- | --- |
| Manufacturer | Mizuno Golf |
| Next Day Delivery | No |
| Preorder | No |