TaylorMade Ladies R11 S Driver
It's everything you want in a driver ................ and more.
TaylorMade R11 S - bigger, faster, longer, more tunable.
New 5-Way ASP Provides More Tuning Options
Flight Control Technology
Movable Weight Technology
Availability:
Out of stock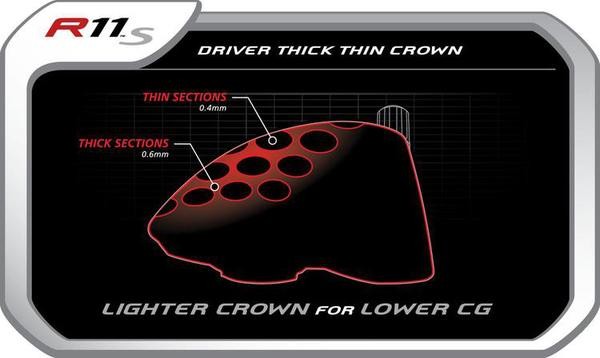 TaylorMade Ladies R11 S Driver The Most Adjustable Driver In Golf

The new TaylorMade R11 S - bigger, faster, longer, more tunable.

The entirely redesigned R11 S is their most advanced driver ever. The new 460cc matte-white finish is powered by a new 5-sided Adjustable Sole Plate, new Flight Control Technology, and Movable Weight Technology. The new R11 S is bigger, faster, and more tunable. So you'll be longer.

The most technologically advanced driver to date. The all-white USGA/R&A maximum 460cc R11 S features a 3 Flight Control Technology (FCT) sleeve and an all-new 5-way Adjustable Sole Plate (ASP) which allows the golfer to find their optimum address set-up - a proprietary setting not found in any other driver. Combined with TaylorMade's Movable Weight Technology (MWT), the new TaylorMade Ladies R11 S Driver can be tuned for 80 separate launch settings, making it the most adjustable driver in golf.

At 460cc, the R11S is at the USGA/R&A limit for size. Similar to the original R11, the new R11 S features a flat-white crown colour and black PVD face to improve alignment and accuracy off the tee. It's address footprint measures more than 11,500mm², and it's white crown colour makes it appear even larger (2%). That's an advantage given that TaylorMade indicates that the majority of golfers gain confidence at address from a head that appears large relative to the ball.
The R11 S driver's modern-classical clubhead shape is intended to suit the eye of the better players, while still providing ample forgiveness and confidence for average players. The head boasts a contemporary, slightly triangular appearance than traditionally shaped drivers that provides higher MOI and a deeper, farther back CG position.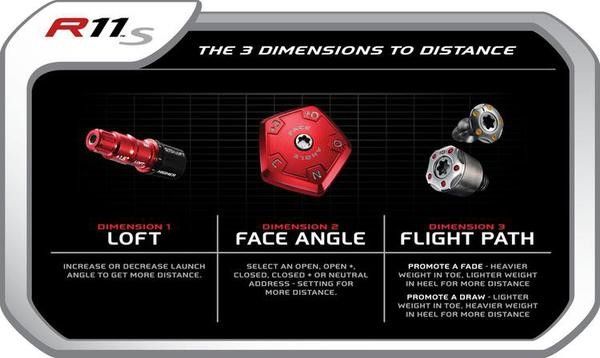 New 5-Way ASP Provides More Tuning Options
ASP technology was a major performance breakthrough as it complimented Flight Control a technology first introduced in the R9 family. When FCT is employed alone, the loft and face angle is coupled by the sleeve system. Adjustable Sole Plate technology allows the decoupling of loft and face angle by using a sole plate to adjust face angle independent of loft sleeve setting. Very simply, that means you can adjust the face angle independently of the loft, and vice versa. The five face angles made possible by the improved ASP Technology of the R11 S are neutral, slightly open, open, slightly closed and closed.
ASP Technology is characterised by a raised, five-pointed plate on the sole. Changing its position is easily acheived by loosening the screw that holds it to the sole, rotating the ASP, then re-tightening the screw.
ASP works with FCT to create 40 combinations of loft and face angle, which can be used to further accentuate a face angle or counter a negative face angle due to a sleeve adjustment.
Flight Control Technology
Flight Control Technology allows you to change the orientation of the driver head with the shaft to effectively adjust the loft up or down, giving you 8 choices of lie and loft/face angles of range of 3° lie and 3° loft face angle for up to approximately 60 yards side-to-side trajectory adjustment and 3° and 1500 rpm of launch condition change.
Movable Weight Technology
TaylorMade introduced Movable Weight Technology

You can only get deals like this from AslanGolf your leading supplier of Golf Equipment!

More Information

| | |
| --- | --- |
| Manufacturer | TaylorMade Golf |
| Next Day Delivery | No |
| Preorder | No |