TaylorMade Ladies R11 S Fairway Wood
Adjust the loft up or down (± 1.5°) with Flight Control Technology (FCT)
Adjust the face to square, closed or open (± 2°) with Adjustable Sole Plate (ASP) Technology
TaylorMade R11 S Fairway has 24 possible combinations of face angle and loft to dial in distance and accuracy
Low and forward CG location promotes faster ball speed and easier launch
White crown and black face makes alignment easy and eliminates glare on top
Availability:
Out of stock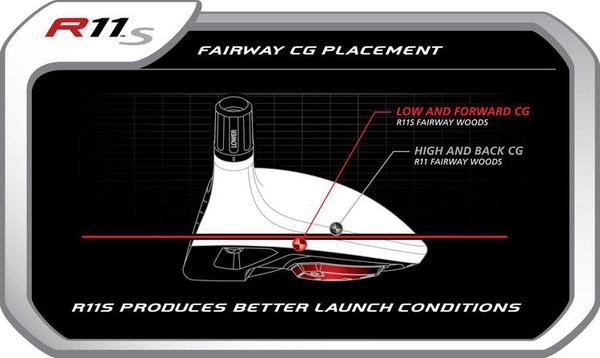 TaylorMade Golf Introduces R11 S Fairway

High-Performance Steel Fairway Woods Feature More Adjustability for Maximum Performance.


TaylorMade Ladies R11 S Fairway Wood
Similar to the R11 S driver, the R11 S fairway woods are classically shaped and incorporate Adjustable Sole Plate Technology (ASP) and more versatile Flight Control Technology (FCT) sleeve for added stability. Together these technology features allow for up to 24 different settings, promoting maximum performance and increased distance through tuning.

It has never been easier to fine tune performance in a fairway wood than in the R11 S. The enhanced adjustability is made possible by an improved FCT sleeve that allows the golfer to make an adjustment range of 3° of lie and 3° loft face angle - a process routinely done in a Tour van where in a player will get the hosel of their club manually positioned to optimise the correct launch angle. By using a provided torque wrench, golfers can obtain the same effect. The R11 S fairways provide up to approximately 54 yards horizontal trajectory adjustment and 3° and 1500 rpm of launch control change.
Returning to the 2012 line is ASP technology, which provides the ability to change the face angle of the fairway head independently in 3 settings from the FCT sleeve face angle setting. ASP technology allows the decoupling of loft and face angle by using a sole plate that can be adjusted for ± 2° of face angle change. This change can be used to further accentuate a face angle or counter a negative face angle due to a sleeve adjustment.
Forward CG for High Launch, Low Spin Performance
TaylorMade Ladies R11 S fairways employ pull face construction to create a thin, light, fast clubface that promotes high ball speed. The crown and walls are made of using TaylorMade's Ultra-Thin Wall (UTW) casting process to reach 0.6mm at their thinnest point. The thin crown weighs less and that weight is used to move th CG position forward. This forward location increases ball speed by reducing dynamic loft and creating better launch conditions. Though it's slightly counterintuative, TaylorMade have found that rearward CG location on fairways actually create a reverse vertical gear effect, since impact dynamics are relative to the perpendicular of the head loft. This reverse vertical gear effect produces a lower launch angle and higher spin rate, which are undesirable because they reduce distance and overall playability.
Clubhead Size and Shape and Apperance
The face depth of the R11 S fairways is 36mm to provide the optimum combination of face area, confidence and playability off turf. Increasing face-depth while maintaining ASP and FCT and achieving satisfactory sound is a major engineering feast.
The flat white crown colour of the R11 S fairways make them appear slightly (2°) larger due to its white crown colour and a black PVD face which provides the optimum contrast for more consistent allignment for all players. The crown colour also eliminates the high intensity hot spot that is commonly found with all gloss finish metalwoods.
Shaft and Club Specs
TaylorMade Ladies R11 S Fairway Woods are standard length and equipped with Aldila RIP Phenom 50 shaft, a 50 gram ladies shaft designed with a medium firm tip profile, RIP shafts incorporate reverse inter-laminar.

You can only get deals like this from AslanGolf your leading supplier of Golf Equipment!

More Information

| | |
| --- | --- |
| Manufacturer | TaylorMade Golf |
| Next Day Delivery | No |
| Preorder | No |