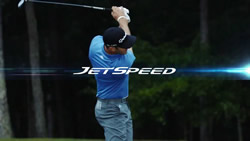 Availability:
Out of stock
First Driver with a Speed Pocket
The JetSpeed driver isn't called JetSpeed for nothing. All elements of this club converge to promote extreme velocity. Swing speed. Clubhead speed. Ball speed. When a jet puts the pedal all the way to the metal it's known as Full Military Power. That's what JetSpeed delivers
JetSpeed is the first-ever driver to incorporate TaylorMade's renowned Speed Pocket technology. Why put the Speed Pocket in a driver, which is already at the COR limit of .822? In this case the Speed Pocket is engineered to promote less spin. JetSpeed's Speed Pocket also offers a huge performance advantage when impact is made low on the face, where most driver mis-hits occur. With most drivers, low impact generates too much spin, making the ball fly too high and land short. JetSpeed's Speed Pocket is engineered to minimize that added spin dramatically, to give you more distance. You'll get a noticeable boost in power when you catch it thin. And when you hit it center-face? Ba-boom.
Unlike the early Speed Pocket designs in RocketBallz and RBZ Stage 2 fairways and Rescue™ clubs, the JetSpeed driver's Speed Pocket is filled with a polymer that keeps debris out and absorbs unwanted vibration while allowing the face to flex freely.
JetSpeed also incorporates a low-forward CG location, which has been proven in previous TaylorMade drivers to generate faster ball speed and lower spin compared to the low-back CG that has for years been accepted as the best location for promoting distance. Because low-forward also promotes a lower launch angle, most players will have to "loft up" to realize the full distance-enhancing benefits of JetSpeed. Three JetSpeed driver lofts are offered – 9.5°, 10.5° and HL (13°). Its Loft-sleeve technology allows you to easily choose from one of 12 positions that give you a range of loft adjustment from ±1.5°.
Visually, the streamlined JetSpeed head features a matte black crown with a unique tonal decal that promotes accurate alignment. Imagine an F-16 that wanted to grow up to be a driver and you'll get the picture. The stock shaft is the Matrix Velox 60 (60 grams).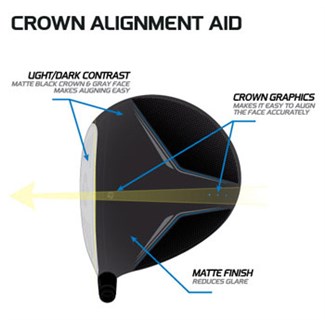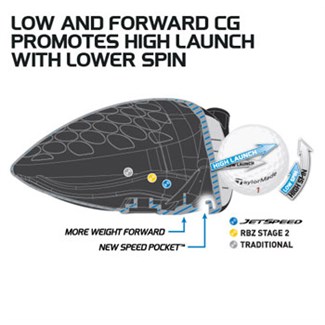 Key Features
First Speed Pocket engineered for a driver promotes more distance on hits low on the face
Low-and-forward CG promotes faster ball speed and lower spin-rate for more distance
Long and light – 46" / 299 grams -- promotes faster swing speed for more distance
Shallow profile allows ultra-low CG to promote high launch for more distance
Streamlined head-shape promotes faster swing speed for more distance
Matrix Velox T 60 shaft promotes fast swing speed for more distance
Matte black crown reduces glare / tonal decal makes alignment easy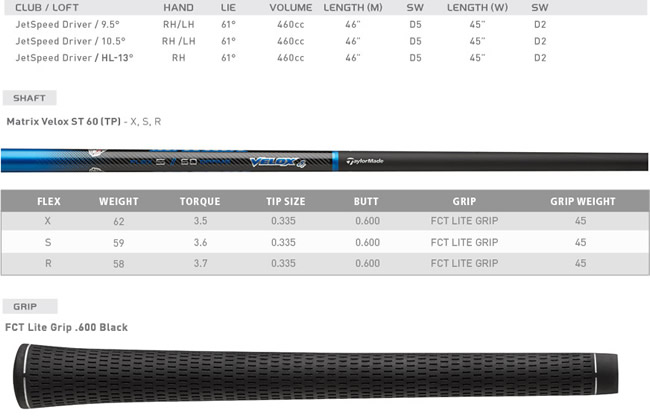 More Information

| | |
| --- | --- |
| Manufacturer | TaylorMade Golf |
| Next Day Delivery | No |
| Preorder | No |