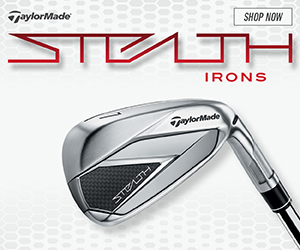 Taylormade Golf Stealth Women's Graphite Irons

Expect Better Shots More Often
New for 2022 Taylormade introduce the Stealth family of Irons to their line up. Golf is an interesting sport when you think about it, the better you play the less shots you take. The New Taylormade Stealth Golf Irons ensure that you will play less golf more often.
The stock shaft offerings for the Stealth Irons is the KBS MAX MT 85 (R,S Steel) and the Fujikura Ventus Red (A,R,S Graphite) with both shafts have a high flight and comes with the popular Lamkin Crossline Black/Red 50g grip.
CAP Back Design with Toe Wrap Construction
CAP Back Design with Toe Wrap Construction expands Forgiveness, Distance and Feel of the original breakthrough technology. An extremely low CG is located using this advanced engineering feat by taking excess mass away from the high toe and placing it in the sole. The results of this is an iron that is very easy to launch with hot trajectory all the way through the set.
Fast Forgiving Face
An intelligenty placed sweet spot is placed on the 450SS face spanning the most common impact points to deliver explosive ball speeds and consistency in all the right places.
Fast and Workable
Incredible speed, accuracy and forgiveness from any lie is provided by the new placement of CG in the clubhead. For the player that requires an iron like ball flight and control the Stealth Plus+ rescue has a smaller more compact shape for geater workability
ECHO Damping System
This system utilises a soft polymer blend located behind the face with multiple contact points right across the face which channels away the harsh vibrations to create a forged like feel at impact.
Thru-Slot Speed Pocket
Taylormade's Patented technology engineered to increase ball speeds and forgiveness and mis-strikes low on the face by designing a face that maximises its flexibility.
Stealth Iron Specifications
| CLUB | HAND | LOFT | OFFSET | BOUNCE | LIE | LENGTH | SWING WEIGHT |
| --- | --- | --- | --- | --- | --- | --- | --- |
| Mens Stealth 4 Iron | RH/LH | 18.5° | 5.8mm | 2.0° | 61.5° | 39.125" | D1/D0 |
| Mens Stealth 5 Iron | RH/LH | 21° | 5mm | 3.5° | 62° | 38.5" | D1/D0 |
| Mens Stealth 6 Iron | RH/LH | 24° | 4.6mm | 5.0° | 62.5° | 37.88" | D1/D0 |
| Mens Stealth 7 Iron | RH/LH | 28° | 4.1mm | 5.6° | 63° | 37.25" | D1/D0 |
| Mens Stealth 8 Iron | RH/LH | 32° | 3.4mm | 6.3° | 63.5° | 35.75" | D1/D0 |
| Mens Stealth 9 Iron | RH/LH | 37° | 2.9mm | 6.8° | 64° | 35.25" | D1/D0 |
| Mens Stealth PW Iron | RH/LH | 43° | 2.6mm | 7.8° | 64.5° | 34.75" | D1/D0 |
| Mens Stealth AW Iron | RH/LH | 49° | 2mm | 9.0° | 64.5° | 34.5" | D1/D0 |
| Mens Stealth SW Iron | RH/LH | 54° | 1.5mm | 12.5° | 64.5° | 34.25" | D2/D1 |
| Mens Stealth LW Iron | RH | 59° | 1.5mm | 9.0° | 64.5° | 35" | D3/D2 |
More Information

| | |
| --- | --- |
| Manufacturer | TaylorMade Golf |
| Next Day Delivery | No |
| Preorder | No |