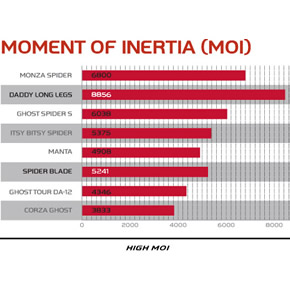 Availability:
Out of stock
TaylorMade Spider Blade Slant - Super High MOI In A Perimeter-Weighted Blade
For years Tour pros have begged us to create a heel-toe weighted blade that offered a similar leap in stability and forgiveness offered by our Spider putters. We've answered with Spider Blade, the most stable blade-style putter we've ever made.
Spider Blade's head construction consists of 11 parts made of 8 materials -- 304 stainless steel, 17-4 stainless steel, aluminum, 3M Foam, tungsten, polycarbonate, Surlyn and TPU – which allowed us to take more weight out of the centre of the head than with any blade we've ever made and ever before and move it to the heel and toe. That's where Spider Blade's high MOI comes from.
Spider Blade's head is counterbalanced with a 130-gram grip that's twice as heavy as a typical putter grip. Counterbalancing increases the MOI of the entire club, making it 50% more stable than a traditional putter. Our Tour Staff pros who helped to develop say counterbalancing makes it easier to keep the head moving on your intended path
Spider Mallet is available in two lengths, 38 and 35". The idea is to grip the club as you would a normal-length putter, with two or three inches of the butt-end of the grip extended above your hands, which gives you the maximum benefit of counterbalancing. Thus, if you normally play a 35" putter you should opt for the 38"; if you play a 33" putter should use the 35"; if you play a 34" putter you can experiment with both the 35 and 38" to find which you prefer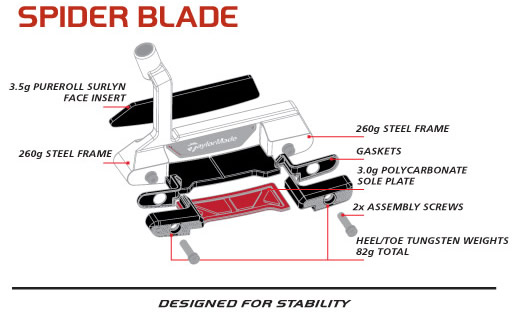 Key Features:-
Tremendously high MOI in a beautifully shaped mallet-style head—5200—for outstanding twist-resistance and distance-control on off-centre hits.
130-gram grip counterbalances head-weight to help you swing the head smoothly and on path.
Counter-balanced Spider Mallet is 50% more stable based on overall club MOI values than a traditional putter.
PureRoll Surlyn® insert promotes soft-yet-solid feel and smooth roll straight of the face.
White leading edge and linear alignment aid in the cavity make aiming easy.
Single bend shaft.
Contact us now via email, phone or live help to order your TaylorMade Spider Blade Slant Putter from Aslan Golf your leading supplier of Golf Equipment!

More Information

| | |
| --- | --- |
| Manufacturer | TaylorMade Golf |
| Next Day Delivery | No |
| Preorder | No |