Skycaddie SX550 Golf GPS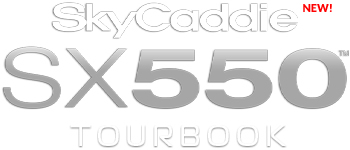 The latest offering from the impressive Skycaddie outfit is the New Skycaddie SX550 Golf GPS. Packed with the latest smart technology combined with its ease of use. This makes the Skycaddie SX550 Golf GPS a fantastic addition to your golfing tech.
Check out the Specs below
NOTHING ELSE COMES CLOSE®
Specifications
5.5" LCD Color Touch Screen provides more viewing screen with a super responsive vivid display.
Lighter and slimmer body design than the original special edition SX500.
Powered by an ultra-fast multi-core processor for fast response.
Preloaded with over 35,000 of SkyGolf's ground-verified, error-corrected maps for unmatched accuracy.
Full color HD course graphics provide mult
Read more »